Hello All,
Okay well, I have good intentions! Here's Saturday's Quickpage freebie...even though it is now Sunday.
I went for a sleep study Friday night. I had to take a sleeping pill. I slept from about 11:30 ish to 4:00 a.m. when I got a huge leg cramp, par for the course of my nightly sleep or lack thereof. Then, they woke me up at 5:30 a.m. on a Saturday are they crazy? Where was the sleep part of the sleep study? HMMM me thinks there was not much! :) Well, I have not been well rested all day. Falling asleep at the computer. I just should have stayed in my bed and done my own SLEEP study...the kind where you actually get to sleep.
I do have one exciting announcement before we get to your freebie! Remember the Friday Frenzy Hop?? Well, if you weren't around then, my fellow CTs and Michelle, the owner of Crafty Scraps and I would all make a QP from a kit in the store at
www.shopcraftyscraps.com
and give it away on each Friday. We did that for about 4 months. I loved it but the vote was to discontinue it. Well, I have convinced them to bring it back. We are not going to do it every Friday but once a month and commemorate those special days of the month. So, we will have a holiday one on December 17, 2010. I am so excited!!! I can't wait! Make sure you have your blog hopping shoes on...there will be 10 pages to get! :) Wow, huh?
So, know that I am full of a kind heart with best intentions. But, here it is although it is late! AGAIN! :( Don't give up on me...I will follow through! :)
Remember those moments of Gratitude! :)
Which one will it be today? :)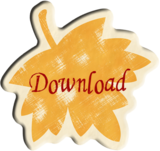 The leaf is clickable! :) Enjoy! There will be something else later today...on Sunday for real! :)