Hello All,
Boy am I thankful that I only have to work at my "full-time" job 2 days this week. Of course, there is the little boy I am teaching on homebound. He is so sweet, I really don't mind going and helping him learn while he is home sick. I hope his doctor's appointment goes well this week and he can go back to school. Then, I have the 5 online classes I am teaching right now. A new one starts tomorrow (well today). I am definitely looking forward to this 5 day break. I hope to get some stuff down around the house as well.
Well, my mind is too cluttered like the rest of everything else, I guess. I thought of posting this during the day Sunday but I was just busy. There it is...sorry I was busy! So, now before I go to bed here for my 3 hours of sleep I am posting my QP freebie for all of you. This is the last page of the 5 page set. I am taking these down after Thanksgiving and they will be put in the store if you missed them. I really like these I think they turned out great! :)
I hope you get all of them one day there is the heart and the leaf. Each button has a different Quickpage. So, if you didn't get all five go back and look since last week's posts.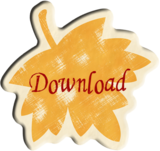 I really hope you are enjoying these freebies and remember what you are thankful for! There is something to be thankful for even if it's five minutes of peace! Sometimes those are hard to come by....so just remember to count those blessings!
Have a great week!
Dina